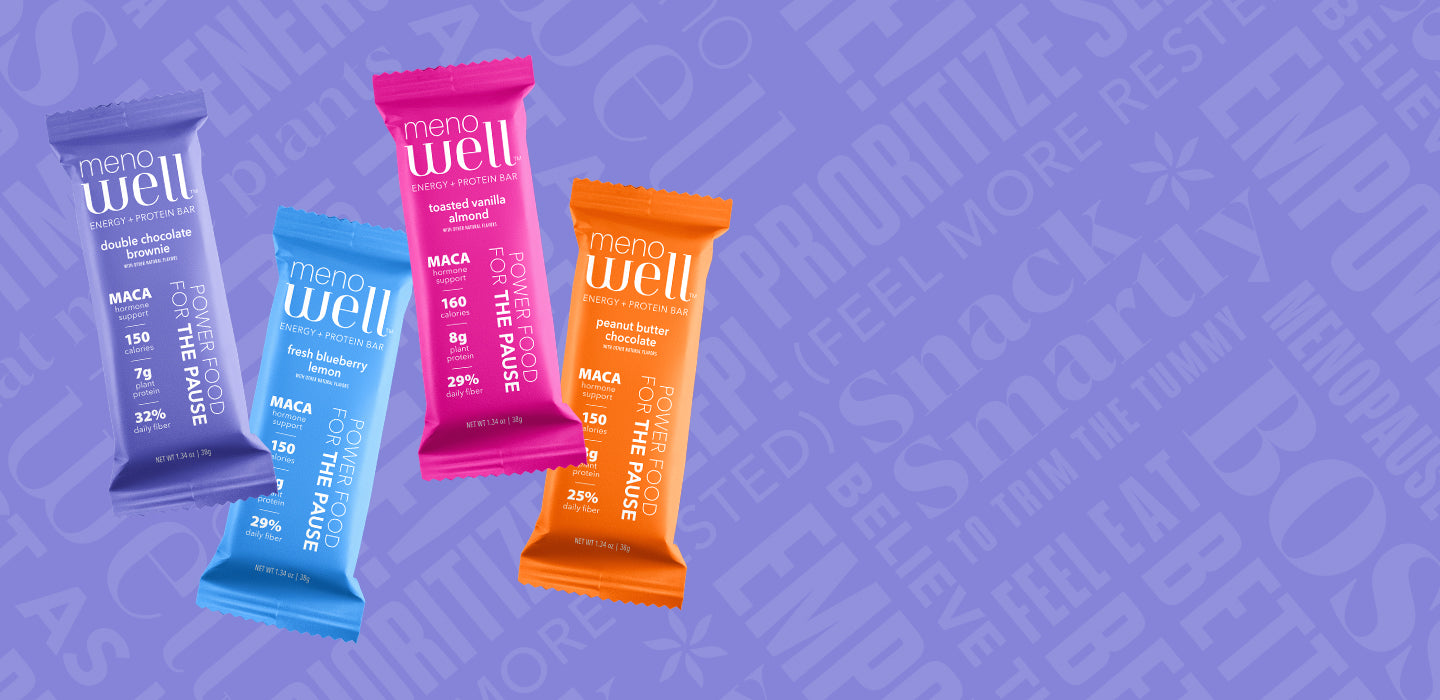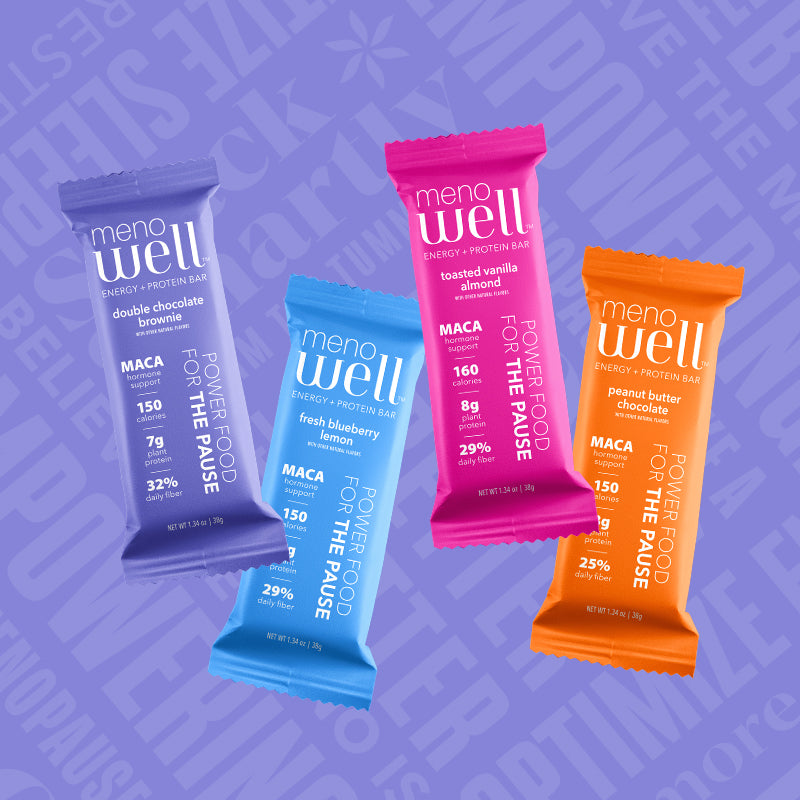 Power Food
for the Pause!
CRUSH YOUR SUGAR CRAVINGS & OPTIMIZE YOUR ENERGY
MenoWell Energy + Protein Bars are delicious plant-powered, low calorie and gluten-free snacks or mini-meals created specifically to help women manage sugar cravings, energy levels, and stubborn weight gain during the challenging stages of menopause.
MenoWell bars are also enthusiastically endorsed and loved by OBGYNS and Clinical Nutritionists who understand that improving our meno nutrition, significantly improves our meno experience!
WHY AN ENERGY BAR FOR MENOPAUSE?
90% of women in the stages of menopause gain 9 pounds or more and feel exhausted (including our founder!) which is why she created a delicious and nutritious better food choice to conveniently handle both.
MenoWell bars are plant-protein powered, low sugar, high fiber, gluten-free, dairy-free, Vegan, Low Carb, Keto/Paleo friendly - and a perfect first meal if you're intermittent fasting.
HOW DO THEY HELP MENOPAUSE?
In addition to our Menopause Transition Trifecta, a daily MenoWell bar is packed with gut supporting prebiotic micronutrients for an energy boost that'll keep you full for hours and able to resist the "Killer C's"... cookies, candy, and chips!
And just like menopause, we're all different, so enjoy your favorite flavors for breakfast, as a mid-day mini meal, after a workout, or as the perfect after dinner dessert swap!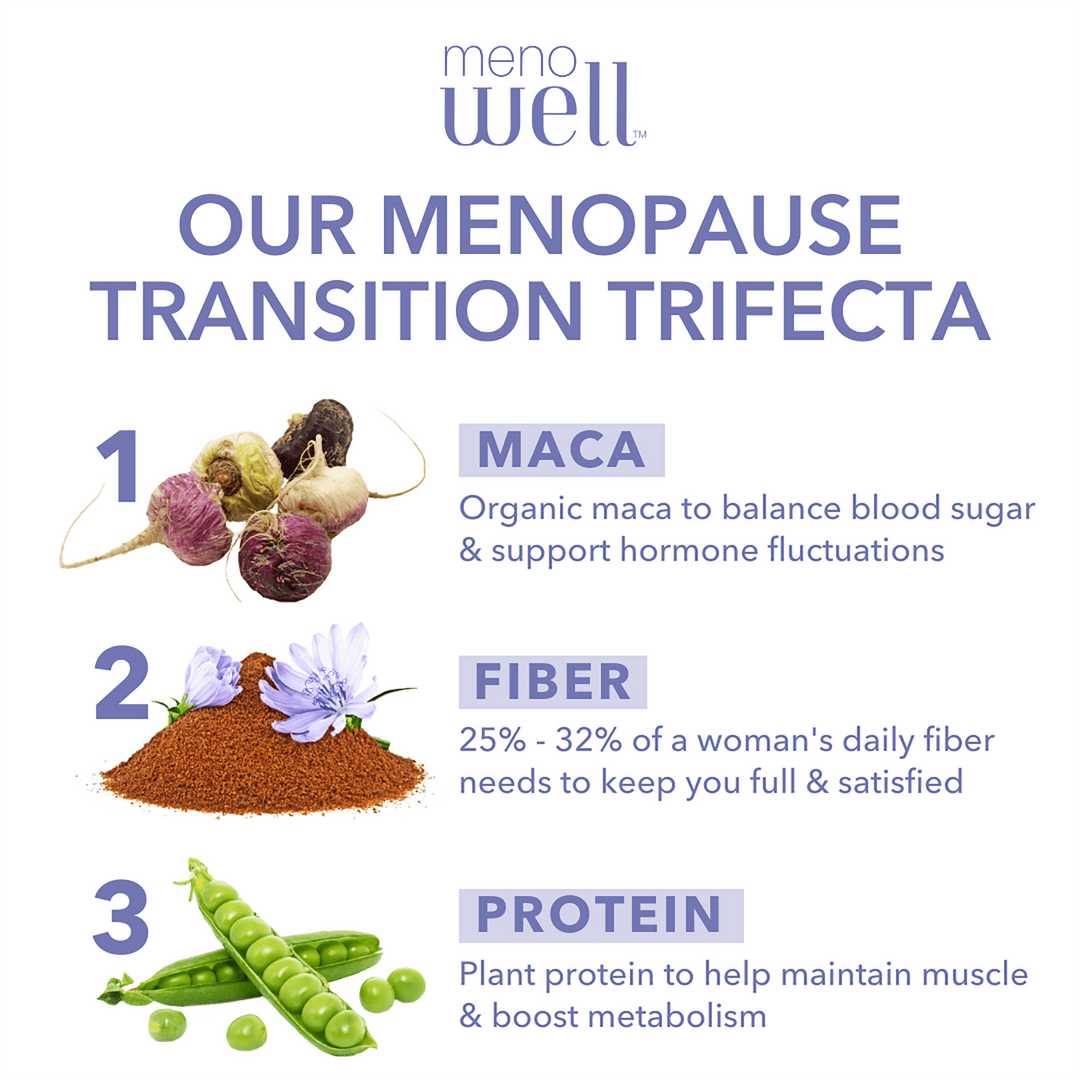 ★★★★★

"What makes MenoWell bars so good for the menopausal woman is that it is anti-inflammatory, balances blood sugar, is low calorie, satisfying, fiber rich, supports brain health, and helps balance hormones (maca), and is plant rich. You can't get rid of all the meno symptoms with one supplement or food, but you can support the whole woman and MenoWell bars do that."

Barbara Sobel

MS, CNS, LDN
★★★★★

"Toxic elements of the western diet can serve as hormone disruptors and lead to the fluctuation and intensity of hot flashes. All the more reason to eat as healthy as possible which is why MenoWell bars are perfect - they make it easy to make a healthier, hormone balancing choice."

Dr. LaReesa Ferdinand

MD, OB/GYN
WE'RE ON A MISSION TO
EMPOWER MENOPAUSE!
After listening to countless women share their stories, it became clear that the time has come to shift our beliefs about the experience of menopause from shame and dread to empowering and magical. After all, nothing feels better than being unapologetically yourself!!